MULTIPLE-FACTOR ANALYSIS OF COMPLEX ENVIRONMENTAL TECHNICAL INSPECTION OF GAS-PUMPING UNIT UNDER DIFFERENT TECHNOLOGICAL OPERATION MODES
Keywords:
technological parameters, gas-pumping unit, nitrogen oxides, carbon oxides, environmental technical inspection.
Abstract
The article deals with the analysis approval of the complex environmental technical inspection of the gas-pumping unit under different technological operation modes. It analyzed the measurements of exhaust gases concentration (nitrogen oxide NOx and carbon oxide CO) depending on the gas consumption Q, excess air coefficient, power rating, and combustion temperature. It was found out that the greatest influence on the composition of the exhaust gases is exerted by the coefficient
of excess air, combustion products temperature has lesser influence on the nitrogen oxides, and the power and gas consumption make an insignificant influence.
References
1.Концепція (проект) державної науково-технічної програми «створення промислових газотурбінних двигунів нового покоління для газової промисловості та енергетики» / Б. Патон, А. Халатов, Д. Костенко, Б. Білека, О. Письменний, А. Боцула, В. Парафійник, В. Коняхін // Вісник НАН України. – 2008. – № 4 – С. 3-9.
2 Романовський Г.Ф. Камери згоряння суднових газотурбінних двигунів: Навчальний посібник / Г.Ф.Романовський, С.І. Сербін. – Миколаїв: УДМТУ, 2000. – 259 с. – ISBN 5-87848-019-0.
3 Постников А.М. Снижение оксидов азота в выхлопных газах ГТУ / Постников А.М.;под ред. д.т.н., проф.Гриценко Е.А. – Самара: Изд-во Самарского научного центра РАН, 2002.– 286 с. – ISBN 5.93424-081-1.
4 Лефевр А. Процессы в камерах сгорания ГТД / Лефевр А.; пер. с англ. – М.: Мир, 1986. – 566 с.
5 Христич В.А. Газотурбинные двигатели и защита окружающей cреды / Христич В.А., Тумановский А.Г. – К.: Техника, 1983. – 144 с.
6 Willis J.D. Industrial RB211 DLE Gas Turbine Combustion Update / Willis J.D., Moran A.J. // ASME, 2000. –GT2000-109. – 6 p.
7 NOx Emissions Reduction in an Innovative Industrial Gas Turbine Combustor (GE10 Machine): A NumericalStudy of the Benefits of a New Pilot System of Flame Structure and Emissions / [A. Andreini, B. Facchini,L. Mangani A. Asti, G. Ceccherini, R. Modi] // ASME, 2005. – GT2005-68364. – 13 р.
8 Мостіпаненко Г. Б. Вдосконалення характеристик камери згоряння газотурбінного двигуна з використанням методів тривимірного моделювання [Електронний ресурс] / Г. Б. Мостіпаненко, С. І. Сербін // Елетронне видання «Вісник Національного університету кораблебудування». – Миколаїв: Видавництво НУК, 2010. – № 1. – Режим доступу: http://ev.nuos.edu.ua.
9 Степанишин В.М. Побудова моделі кореляційного аналізу для дослідження багатофакторних процесів і явищ [Електронний ресурс] / Степанишин В.М, Тисовський Л.О. // Національний університет "Львівська політехніка",
кафедра ОП Національного лісотехнічного університету України. Режим доступу: http://ena.lp.edu.ua:8080/handle/ntb/15993
10 Смагин Д.М. Многофакторный регресионный анализ с помощью МS EXSEL / Смагин Д.М., Горловец Т.В. // Вісник КрНУ імені Михайла Остроградського. – 2012. – 6(77). – С. 39-42.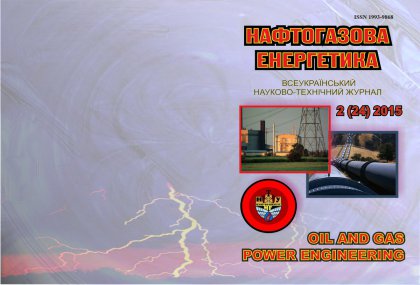 Downloads
How to Cite
Мандрик, О. М., Тирлич, В. В., & Михайлюк, Ю. Д. (2015). MULTIPLE-FACTOR ANALYSIS OF COMPLEX ENVIRONMENTAL TECHNICAL INSPECTION OF GAS-PUMPING UNIT UNDER DIFFERENT TECHNOLOGICAL OPERATION MODES. Oil and Gas Power Engineering, (2(24), 44–52. Retrieved from https://nge.nung.edu.ua/index.php/nge/article/view/345
Section
PHYSICAL AND TECHNICAL PROBLEMS OF ENERGY CARRIERS TRANSPORTATION STORAGE