CLARIFICATION OF INERTIA AND SUPERFLUOUS CONNECTION LADENINGS OF RECIPROCATING ENGINES
Keywords:
piston, force of inertia, boring pump, superfluous connection, beam, friction, support.
Abstract
Exactness of power analysis of mobile link of forward kinematics pair is estimated on determination of force of inertia and additional loadings from statically indefinite arrangement of elements of the system. The step of link, presence of intermediate support, is taken into account and it location not at one level with other supports.
References
1 Молчанов А.Г. Нефтепромисловые машины и механизмы / А. Г. Молчанов, В. Л. Чичеров. – М.: Недра, 1983. – 308 с.
2 Кожевников С.Н. Основания структурного анализа механизмов / С. Н. Кожевников. – К.: Наукова думка, 1979. – 230 с.
3 Кіницький Я.Т. Теорія механізмів і машин / Я. Т. Кіницький. – К.: Наукова думка, 2002. – 660 с.
4 Писаренко Г.С. Справочник по сопротивлению материалов / Г. С. Писаренко,
А. П. Яковлев, В. В. Матвеев. – К.: Наукова думка, 1979. – 704 с.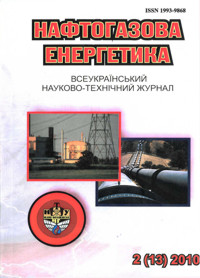 Downloads
How to Cite
Воробйов, М. С., & Квас, М. І. (2010). CLARIFICATION OF INERTIA AND SUPERFLUOUS CONNECTION LADENINGS OF RECIPROCATING ENGINES. Oil and Gas Power Engineering, (2(13), 19–22. Retrieved from https://nge.nung.edu.ua/index.php/nge/article/view/252
Section
PHYSICAL-TECHNICAL PROBLEMS OF ENERGY CARRIERS RECOVERY