AVAILABILITY OF THERMOELECTRIC FOR TRANSFORMATION OF SOLAR AND THERMAL ENERGY TO THE ELECTRIC POWER FOR UKRAINIAN CONDITIONS
Keywords:
thermoelectrics, solar and thermal emission, power conversion system.
Abstract
Availabilities of thermoelectric for transformation of solar and thermal emission to the electric energy for
Ukrainian conditions are considered. Estimations about practicability of using suggested system of energy
transformation are realized, and necessary dependences are achieved. The requirements are described, necessary for its effectiveness rising and for optimal conditions installation for the purpose of new method.
References
1. Дербенцев В.Д. Методологічні аспекти кількісної оцінки енергетичної безпеки економіки України [Текст] / В.Д. Дербенцев, Г.В. Бондаренко // Моделювання та інформаційні системи в економіці. Збірник наукових праць. – 2009. – Випуск 79. – с.292-307.
2. Thermoelectric generators. Global thermoelectric. - (http://www.globalte.com/pdf/TEG_brochure.pdf).
3. Ґрунтові термоелектричні генератори (ГТЕГ) – (http://ite.cv.ukrtel.net/ite/ukr/termogenerators_ukr.htm).
4. Дудюк Д.Л. Нетрадиційна енергетика: основні теорії та задачі: навч. посіб. [Текст] / Д.Л. Дудюк, С.С. Мазепа, Я.М. Гнатишин – Львів: Магнолія 2006, 2008. – 188с.
5. Каталог генераторных модулей (Крио-терм) – (http://kryotherm.ru/ru/index.phtml?tid=81).
6. Програма «Криотерм» - (http://www.kryotherm.ru/ru/?tid=84).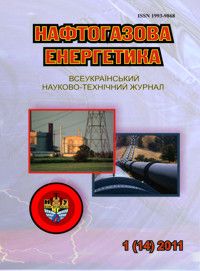 Downloads
How to Cite
Карпаш, О. М., Цих, В. С., & Яворський, А. В. (2011). AVAILABILITY OF THERMOELECTRIC FOR TRANSFORMATION OF SOLAR AND THERMAL ENERGY TO THE ELECTRIC POWER FOR UKRAINIAN CONDITIONS. Oil and Gas Power Engineering, (1(14), 15–21. Retrieved from https://nge.nung.edu.ua/index.php/nge/article/view/80
Section
PHYSICAL-TECHNICAL PROBLEMS OF ENERGY CARRIERS RECOVERY