EVALUATION OF THE STATISTICAL CHARACTERISTICS OF ACOUSTIC SIGNAL SENSOR INSTALLED ON GAS PUMPING
Keywords:
acoustic sensors, the autocorrelation function, spectral density, the density law, the law of distribution, variance, expectation.
Abstract
The statistical characteristics of acoustic signal sensors installed on the pumping unit booster station underground storage of gas "Bilche-Volytsya".
References
1 Волгин В.В. Оценка корреляционных функций в промышленных системах управления / В.В. Волгин, Р.Н. Каримов. – М.: Энергия, 1979. – 80 с.
2 Петеш М.О. Ідентифікація та контроль помпажу відцентрових нагнітачів газоперека-чувальних агрегатів дотискувальної компресорної станції підземного сховища газу: доклади міжнар. конф. з автоматичного управління
«Автоматика – 2008» / М.О. Петеш. – Одеса: ОНМА, 2008. – С.891-982.
3 Назаренко М.В. Теоретичні засади та принципи побудови моделей динамічних процесів та їх регуляторів: [монографія] / М.В. Назаренко. – Кривий Ріг: Діоніс (ФОП Чернявський Д.О.). – 2010. – 204 с.
4 Семенцов Г.Н. Теорія автоматичного керування: навч. посіб. / Г.Н. Семенцов. – Івано-Франківськ: Факел, 1999. – 610 с.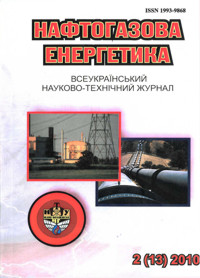 Downloads
How to Cite
Петеш, М. О., Рудавський, Я. В., & Лагойда, А. І. (2010). EVALUATION OF THE STATISTICAL CHARACTERISTICS OF ACOUSTIC SIGNAL SENSOR INSTALLED ON GAS PUMPING. Oil and Gas Power Engineering, (2(13), 70–76. Retrieved from https://nge.nung.edu.ua/index.php/nge/article/view/264
Section
POWER ENGINEERING, CONTROL AND DIAGNOSTICS OF OIL AND GAS COMPLEX FACILITIES