ANALYSIS OF THE MODES OF FUNCTIONING OF THE UKRAINIAN GAS-TRANSPORT SYSTEM AS A MANAGEMENT OBJECT
Keywords:
gas-transport system, system of support of making decision, high-fidelity computer simulator.
Abstract
The infrastructure of the Ukrainian gas-transport system and different principles of its management are examined. One of approaches is based on the principles of linguistic-mathematical tool of the structure of Automatic
System Management of the technological process. The other approach concerns application of mathematical models and high-precision computer simulators which implement management principles on its basis.Systems approach made it possible to analyze modern methods used in the gas-transport systems management. It has been found that these systems, except for the standard set of management components, can successfully use information technologies (ІТ) to solve various tasks. The results of this analysis resulted in the conclusion that modern management of ІТ services should be oriented both at external and internal information services customers. This is the essence of ITSM conception.
Recommendations on effective organization and management of information technologies are collected in the library of ITIL (Information Technology Infrastructure Library) – standards, based on the best international experience of leading specialists and organizations.
References
1 Кологривов М.М. Інфраструктура і режими експлуатації систем газонафтотранспорту: навчальний посібник / М.М. Кологривов;Під ред. В.В. Притули. – Одеса: Видавницькій центр ОДАХ, 2009. – 60 с.
2 Бернер Л.И. Система піддержки принятия диспетчерських решений в АСУТП реального времени / Л.И. Бернер, Г.А. Ланчаков,В.В. Никаноров и др.. // Промышленные АСУ и контроллеры. – 2007. – № 2. – С. 13-15.
3 Бернер Л.И. Методы и средства диспетчерського управления непрерывными технологическими процессами / Л.И. Бернер, А.А. Ковалев, А.В. Рощин. – М.: Изд-во МАДИ, 2009. – 313 c.
4 Бернер Л.И. Проблемы проектирования и эксплуатации интегрированных систем поддержки принятия решений в многоуровневых АСУ непрерывными технологическими процессами / Л.И. Бернер. – М. Изд-во «Техполи-
графцентр», 2010. – 210 с.
5 Селезнев В.Е. Современные компьютерные тренажеры в трубопроводном транспорте: математические модели и практическое применение / В.Е. Селезнев, В.В., Алешин С.Н. Прялов. – М.: МАКС Пресс, 2007. – 200 с.
6 Энциклопедия газовой промышленности. 4-е изд.; пер. с франц.; ред. пер. К.С.Басниев. – М.: ТВАНТ, 1994. – 884 с.
7 Деточенко А.В. Спутник газовика: справочник / А.В. Деточенко, А.Л. Михеев, М.М. Волков. – М.: Недра, 1978. – 275 с.
8 Селезнев В.Е. Математическое моделирование трубопроводных сетей и систем каналов: дополнительные главы / В.Е., Селезнев, В.В. Алешин, С.Н. Прялов. – М.: МАКС Пресс, 2009. – 356 с.
9 Селезнев В.Е. Математическое моделирование трубопроводныхсетей и систем каналов: методы, модели и алгоритмы / В.Е. Селезнев, В.В. Алешин, С.Н. Прялов. – М.: МАКСП-ресс, 2007. – 695 с.
10 Седов Л.И. Механика сплошной среды; в 2 т.; 6-е изд., стер. – СПб.: Лань, 2004. – 2 т.
11 Нигматулин Р.И. Динамика многофазных сред: в 2 т. – М.: Наука, 1987. – 2 т.
12 Идельчик И.Е. Справочник по гидравлическим сопротивлениям / И. Е. Идельчик; под ред. М.О. Штейнберrа; 3-е изд., перераб. и доп. – М.: Машиностроение, 1992. – 672 с.
13 Самарский А.А. Численные методы математической физики / А.А. Самарский, А.В. Гулин. – М.: Научный мир, 2000. – 316 c.
14 Селезнев В.Е. Основы численного моделирования магистральных трубопроводов / В.Е. Селезнев, В.В. Алешин, С.Н. Прялов; под ред. В.Е. Селезнева; изд. 2-е, перераб. и доп. – М.: МАКС Пресс,2009. – 436 с.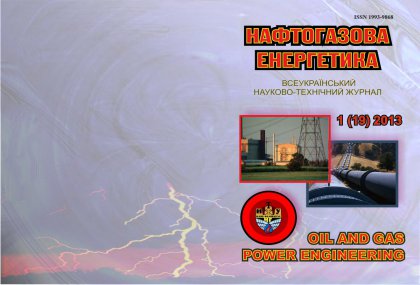 Downloads
How to Cite
Кучмистенко, О. В. (2013). ANALYSIS OF THE MODES OF FUNCTIONING OF THE UKRAINIAN GAS-TRANSPORT SYSTEM AS A MANAGEMENT OBJECT. Oil and Gas Power Engineering, (1(19), 68–80. Retrieved from https://nge.nung.edu.ua/index.php/nge/article/view/87
Section
PHYSICAL AND TECHNICAL PROBLEMS OF ENERGY CARRIERS TRANSPORTATION STORAGE