Analysis of residual gases of internal combustion engines at working on biogas and their effects on the environment
Keywords:
natural gas, biogas, garbage dump, ecology, composition of biogas, remaining gases, coefficient of surplus of air, carbon monoxide
Abstract
Given the limited resources of Ukraine in petroleum fuels for internal combustion engines, the use of alternative fuels is quite relevant. One of their sources is biogas from livestock by-products and garbage dump. Ukraine has significant volumes of these renewable sources, the potential of which reaches more than 100 million tons of conventional fuel. Unfortunately, this resource is rarely used. In developed countries, biogas is widely used for electricity generation in power plants with internal combustion engines. Today in the United States the volume of biogas production is about 500 million m3 / year, in France – 40 million m3 / year. In the Czech Republic, Austria, Denmark, Finland and other countries, biogas is used as a motor fuel. Business Concerns Volvo, Scania produce buses running on biogas. In Ukraine, gas from landfills and livestock by-products is mostly released into the atmosphere or burned by flares, polluting the surrounding air. This causes additional greenhouse gas emissions. It is known that the main source of air pollution is vehicles. Exhaust, i.e. residual gases are considered toxic. The World Motor Vehicle Park annually emits up to 260 million tons of carbon monoxide, 40 million tons of volatile hydrocarbons, nitrogen oxides and others. The composition of the residual gases of the internal combustion en-gine depends on the component composition of the sources of fuel and, of course, on the mode of operation of the internal combustion engine In the given article the structure of residual gases of internal combustion engines at work on biogas is analyzed and their influence on environment is generalized. Based on analytical calculations, it is determined how the amount of residual gas components changes depending on the excess air ratio and the per-centage of methane in biogas. Recommendations for improving the performance of internal combustion engines on biogas by using it in mixtures with natural gas are given. According to the research results, the corresponding graphical dependences are constructed.
References
European Biogas Association (Elektronnyi resurs). URL: https://www.europeanbiogas.eu/
Kozak F.V., Dykun T.V., Haieva L.I., Luchynskyi V.V. Biohaz z vidkhodiv ta vtorynnykh produktiv tvarynnytstva yak avtomobilne palyvo. Naftohazova enerhetyka, 2016. No2 (26). P.89-94. [in Ukrainian]
Geletuha G.G., Zheleznaya T.A., Oleynik E.N. Perspektivyi proizvodstva teplovoy energii iz biomassyi v Ukraine. Promyishlennaya teplo-tehnika. 2013. Vol.35. No 5. P. 48-55. [in Russian]
Abramchuk F.I., Hutarevych Yu.F., Dolhanov K.S., Tymchenko I.I. Avtomobilni dvyhuny. Kyiv: Aristei, 2006. 453 p. [in Ukrainian]
Kuleshov A.S. Programma rascheta i optimizatsii DVZ Dizel-RK. M: MVTU im. Baumana, 2004. 124 p. [in Russian]
Dykun T.V., Haieva L.I., Kozak F.V., Demianchuk Ya.M. Analiz roboty DVZ na biohazi z vidkhodiv smittiezvalyshch. Naftohazova ener-hetyka, 2019. No 1 (31). P. 83-90. [in Ukrainian]
Zinko R.V., Buchkivskyi B.R., Zirkevych V.M., Andriienko A.M. Avtomobilni dvyhuny : navch. posib. / M-vo oborony Ukrainy, Akad. sukhoput. viisk im. hetmana Petra Sahaidachnoho. L.: ASV, 2011. 189 p. [in Ukrainian]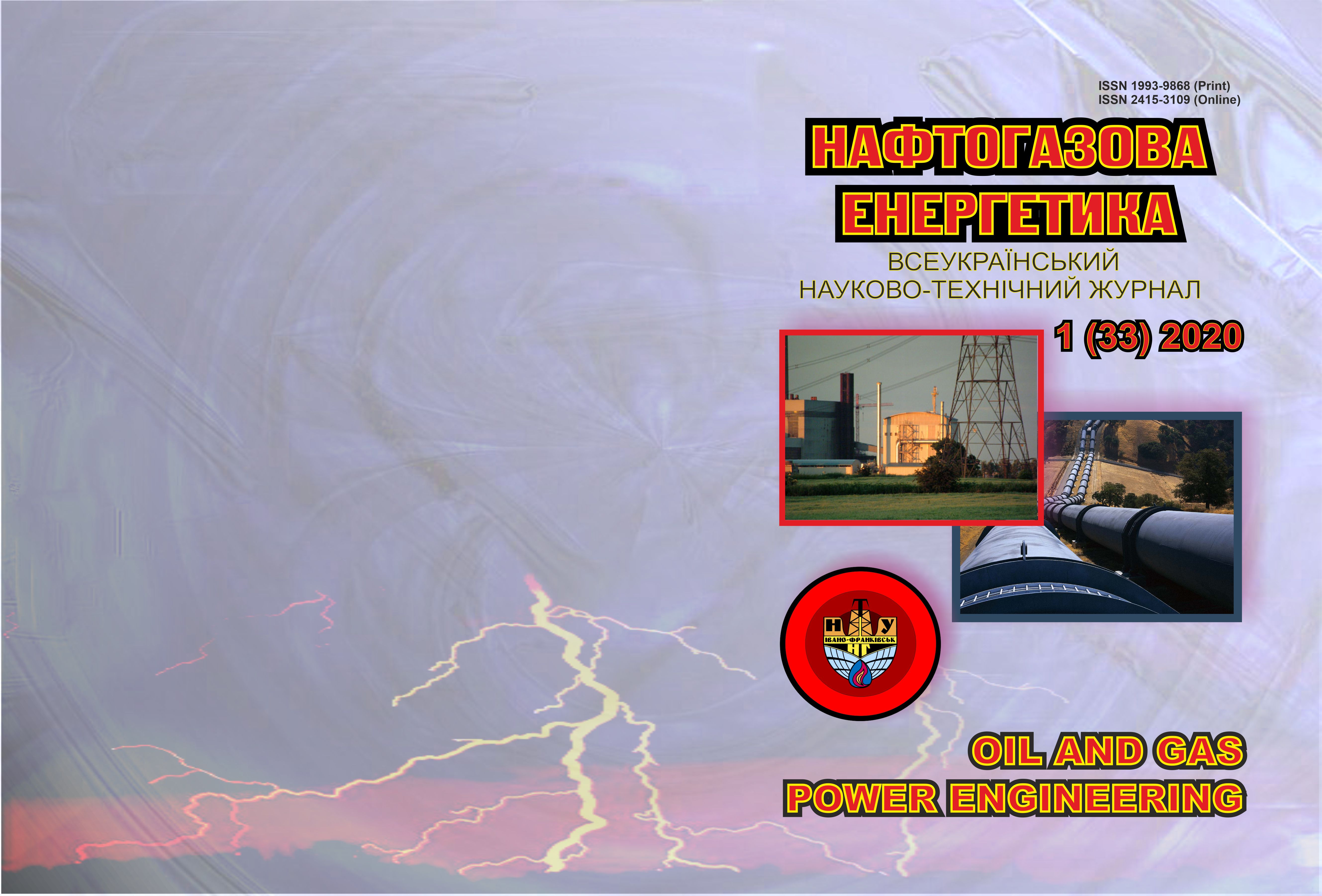 Downloads
How to Cite
Dykun Т. В., Artym В. І. ., Demianchuk Я. М., Kozak Ф. В., & Haieva Л. І. . (2020). Analysis of residual gases of internal combustion engines at working on biogas and their effects on the environment. Oil and Gas Power Engineering, (1(33), 101–108. https://doi.org/10.31471/1993-9868-2020-1(33)-101-108
Section
NEW SOLUTIONS IN MODERN EQUIPMENT AND TECHNOLOGIES