EFFICIENCY IMPROVEMENT OF TECHNOLOGY OF GAS CONDITIONING FOR TRANSPORTATION AT AZERBAIJAN UNDERGROUND GAS STORAGE FACILITIES
Keywords:
underground gas storage facility, well, compressor, layer, gas condensate, dehydration, regeneration.
Abstract
Irregular gas consumption is a main index of underground gas storage facilities. Underground gas storage stations (UGSS) are essential components in gas transmission network and they ensure its normal operation. Improvement of the quality and efficiency of gas extracted from the UGSS in the Republic is connected with upgrading of the existing technology of gas conditioning for transportation. In order to increase the active volume of injected gas and upgrade the quality of the extracted gas we have analyzed the existing state of gas conditioning technology for its transportation, thermodynamic parameters of all the wells and field equipment at Kalmass UGSS. A number of research and scientific works have been done to  develop new technologies in order to improve the quality of the gas conditioned for transportation in conditions of Kalmass UGSS. Based on the results of the scientific studies, a new complex absorbent for gas dehydration and hydrate buildup prevention has been developed on the basis of domestic petroleum products. The optimum thermodynamic and technological mode of the plant operation during gas extraction at Kalmass UGSS has been also selected.
References
1 Асланов В.Д. Геологические основы создания подземных хранилищ газа в связи с решением проблемы газоснабжения. – Баку: Нурлан, 2001. – 162 с.
2 Гурбанов А. Н. Повышение эффективности Карадагского подземного газохранилища /А. Н.Гурбанов, Е. Х.Искендеров // Розвідка та розробка нафтових і газових родовищ. – 2011. – № 2(39). – С. 125-129.
3 Гурбанов А. Н. Выбор и исследование нового ингибитора для подготовки газа к транспорту / А. Н.Гурбанов // Нефтепромысловое дело. – 2009. – № 7. – С. 56-63.
4 Бухгалтер Э.Б. Метанол и его использование в газовой промышленности / Э.Б.Бухгалтер. – М.: Недра, 1986. – 238 с.
5 Бекиров Т.М. Сбор и подготовка к транспорту природных газов / Т.М.Бекиров, И. А.Шаталов. – М.: Недра, 1986. – 260 с.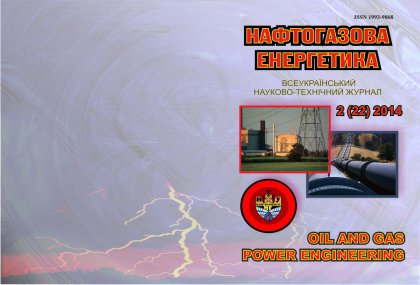 Downloads
How to Cite
Гурбанов, А. Н. (2014). EFFICIENCY IMPROVEMENT OF TECHNOLOGY OF GAS CONDITIONING FOR TRANSPORTATION AT AZERBAIJAN UNDERGROUND GAS STORAGE FACILITIES. Oil and Gas Power Engineering, (2(22), 57–62. Retrieved from https://nge.nung.edu.ua/index.php/nge/article/view/319
Section
PHYSICAL AND TECHNICAL PROBLEMS OF ENERGY CARRIERS TRANSPORTATION STORAGE